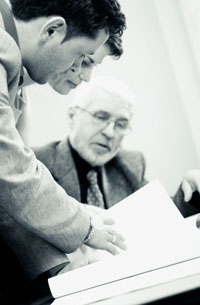 The Community Association of Sudden Valley started its life as "the Ranch". The original owner of the acreage was Banning Austin. In 1949 the land was sold to Glen and Betty Corning who named it the Ranch and lived there with their children until they sold 1,200 acres of property in 1968 for 1.8 million. The new owner was Ken Sanwick of Sudden Valley Inc. He envisioned the land as "Sudden Valley Undeveloment" and wanted it to remain natural while still incorporating homes into the wilderness. By 1969 the County Commissioners approved the first plat for 158 lots west of Lake Whatcom Boulevard.
The first property owner was Mae Schatz who bought Division 1 Lot 112 in May 1969. In the 70's the Valley changed ownership a few times. SunMark Inc. bought out the Sanwick Corporation in 1973 and then in 1975 Continental Mortgage Investors took over from SunMark as the developer. This was short lived as CMI declared bankruptcy not long after. In December 1976 ownership and control was transferred to newly named Sudden Valley Community Association.
The owner of SunMark, Roger Ufkes, who happened to be the son of the first property owner, formed the original Board of Directors for the new Community Association. He served on the Board for two years in the early 70's and is credited for urging the property owners to buy the Golf Course and all its subsidiaries for 1.4 million. The one time assessment fee of $400 was voted on and passed by the residents. The SVCA now held the title to all the roads, parks, greenbelt, recreation facilities, marina, airstrip and the country club. Sudden Valley was well on its way to becoming the community it is today.