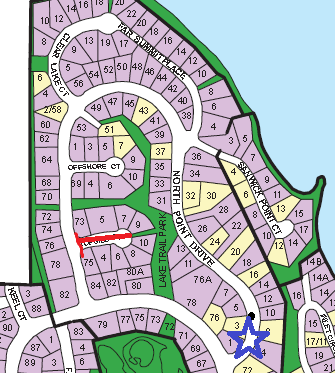 6/1/17 updated 4:31 p.m.
Due to a gas leak at Topside Court , the following traffic revisions are in place for the next few hours:
Through Traffic has been restored to North Point Drive. However, there is no access to Topside Court for the next few hours. Responders are requesting residents use the first North Point drive street entrance to access Offshore Court. See image.
Crews have excavated Topside Court and the leak has been contained.
There is no fire threat, however, residents in this location are requested to stay in their homes so responders may complete their work .
The Fire Department, EMS and Cascade Natural Gas are estimated to secure and leave the the area in 1 – 2 hours.
Cascade Natural Gas will be contacting homeowners on Topside Court this evening to restore full service. Once Cascade Natural Gas has restored full service it is recommended residents contact a heating and plumbing company to restore pilot lights.
The excavated locations will have temporary patchwork. Cascade Natural Gas will come back in the next few days to hot-patch the excavated sights.
Please note that no water mains or alternate water lines were affected during the leak, if residents in this area notice water discoloration it is due to vibrations caused by excavation.
Traffic reports and updates will be posted as they are received.