As reported in the April Views, SVCA has scheduled vegetation control in Gate 5 during this year. We are approaching this with a holistic viewpoint; vegetation control includes clearing vegetation back away from culverts and swales, clearing back tree road overhand (allowing sunlight onto roads to melt winter ice) clearing lower overhead branches for fire and SSC truck access, roadside mowing, clearing away vegetation at street intersections, and clearing swales and culverts for rain water drainage. These work actions are traditionally labor intensive making it difficult for the Association to annually fund.
This year we are trying a different technique involving a road mower that utilizes a 25' extendable arm capable of cutting grass, shrubs and trees up to 6 inches in dia. and is capable of performing multiple actions required for each of the activities.
Vegetation Control is a four-step process:
Road mower cutting (cuts roadside grass, trims overhead trees enabling sun light on roads, eliminates impacts on large vehicle, clears foliage at intersections)
Clearing and chipping of fallen debris (finalizes vegetation trimming, removes debris from roads and swales, exposes culverts)
Clearing blocked culverts and drains (enables rain water to flow, reduces road damage and localized home/ street flooding)
Hydro seeding with an erosion control mix onto steep hillsides (stabilizes erosion)
We are evaluating a new road mower this year which we rented this past week. Our existing tool is a non-performer having consistently failed each year. It is scheduled for replacement this year.
We know the road mower cuts a wide swath along the road, including the inside of swales and adjacent vegetation, and can cut tree limbs up to 25' above the road. The cuts left behind by the mower can be gross and jagged.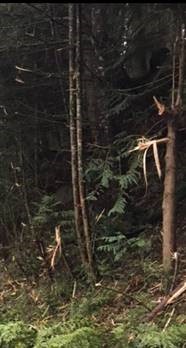 A chipping and clearing crew follows collecting the fallen debris and either chips it and blows it into the forest, or collects it for drop off at Area Z. The same crew will also employ a small chain saw to trim prior cut limbs back to trunk. This will leave the swales open for rain water flow, less leaves in the swales in fall, and more sunlight, and well-trimmed.
As the swales are cleared, the culvert work (June 1 through September 30th) crew can quickly locate the culverts and clear them using the Hydrovac tool purchased last year.
Lastly, we will be spraying a hydro-seed erosion control mix in specific areas to stabilize the slope erosion and protect our swales and culverts.
The production rate of this work is expected to increase work completions by 50% as compared to using workers with chain saws and a bucket truck. As this is maintenance on SVCA property, and we are not removing crowns, no permit from the County is required
We believe this will make the membership quite happy. While the initial process creates some unsightly views, the final product shows pride of ownership. It also will make the Gate 5 roads safer in the winter, less flooding from rain, better stability on your slopes, lower maintenance costs, increased driver visibility (and thus road safety). Our normal assigned UPS driver already thanked Turf Care for the visibility.