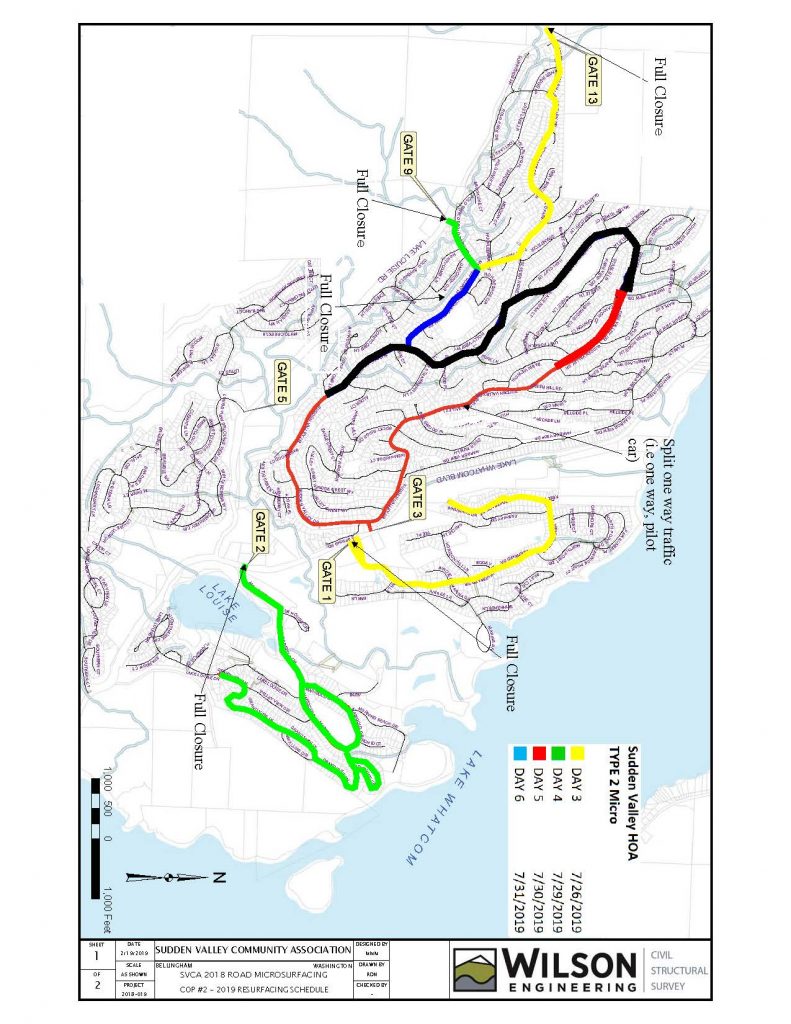 Work Zones by Street Schedule updated 7/24/19
*Please note the order (righthand column) in which work will be completed
Intermountain Slurry Seal has begun microsurfacing strategic roads around Sudden Valley. Please refer to the updated project map and street schedule details above to confirm when your street is scheduled so that you can plan accordingly. Notices have been left at residents' doors informing those within the applicable work zones of the project, and Reader Boards have and will continue to be deployed at the entrance to affected gates 48 hours in advance.
Impact from Road Closures (including updated information as of 12:00 p.m. 7/25/19):
On Friday, 7/26 and Monday, 7/29, roads scheduled for microsurfacing will undergo a FULL ROAD CLOSURE. Please note that this means you CANNOT drive or walk on this surface at all until it is fully cured. There will be no vehicular access on these days while the product is being applied, except for Emergency Response Services or emergent medical needs.
The road into Gate 1 will be closed from 10:30 a.m. to 5:00 p.m. on Friday, 7/26.
The ENTRANCE to Gate 2 will not be subject to microseal on Monday, 7/29, and will remain open all-day. The road closure for Gate 2 will start just past the clubhouse entrance. Access will remain open and parking available for residents who would like to pre-stage their vehicles at the Clubhouse and Lower Golf Course Parking Lot.
On Tuesday, 7/30, Sudden Valley Drive (from Honeycomb Lane to Harborview Road) will be split one-way traffic, with a pilot car guiding vehicles through. Morning Glory Drive (from Sudden Valley Drive to Polo Park Drive) will undergo a FULL ROAD CLOSURE.
Expect delays and choose alternate routes if possible. This project is very weather-dependent: if the product cures more quickly, crews will re-open roads ahead of schedule. We encourage residents who have business outside Sudden Valley to leave before 7:00 a.m. and to return after 5:00 p.m. Another alternative is to pre-stage your vehicle outside the work zone. Security assures residents that they will not be issued a violation for parking on the side of Sudden Valley roads for the duration of this project. Parking is available at designated Emergency Weather Parking areas (see Weather Event Parking map below) with the exception of the Gate 5 overflow. The GM has also approved allowing parking at the cluster mailboxes for residents impacted by the microseal, but ask that you please leave room for letter carriers to access mailboxes.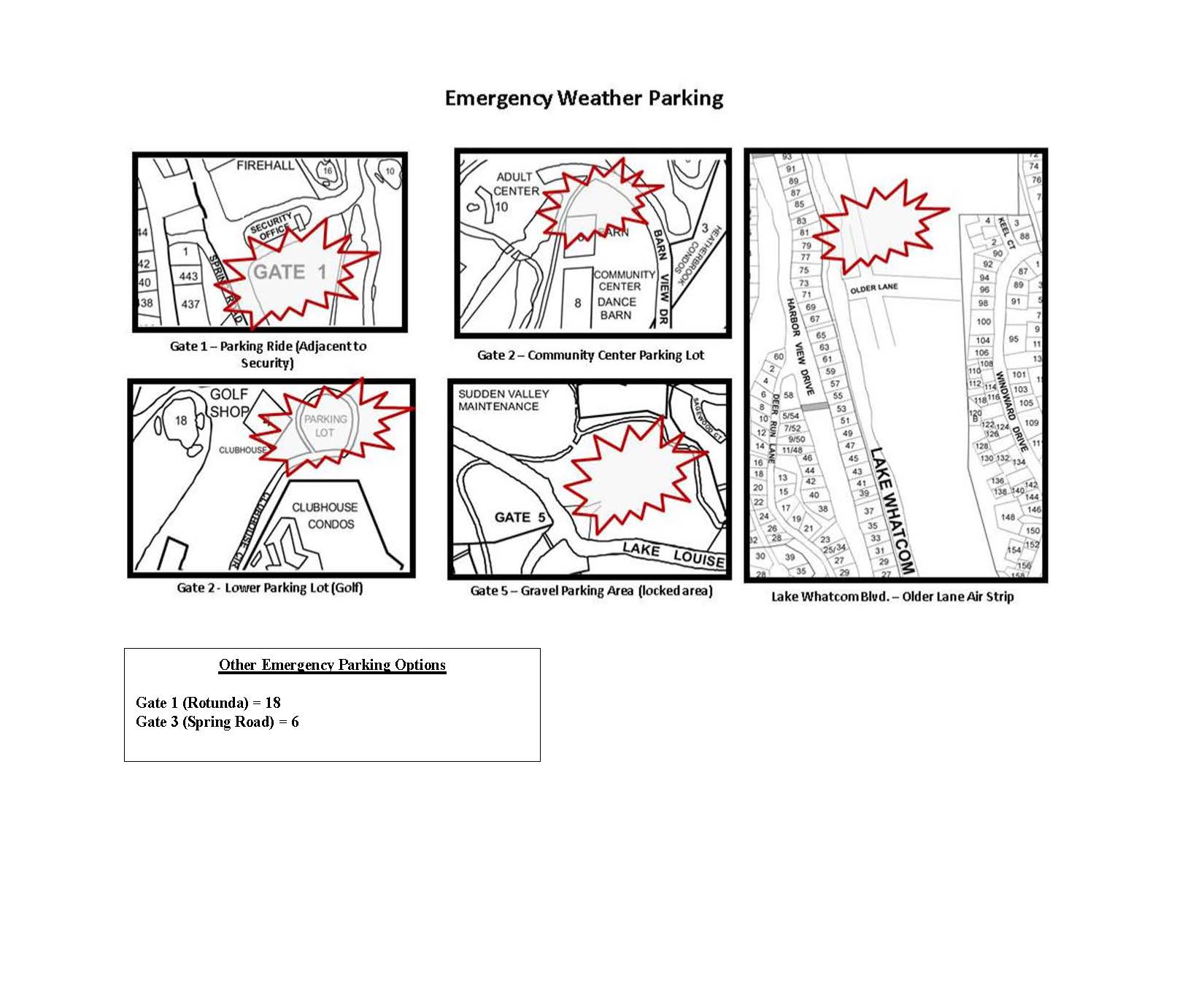 Special Medical Requests & Residential Contractor Access: If you have a specific medical access need or require contractor access, please contact Alex Montes at (775) 685-6709 or Alexis.MontesDeOca@gcinc.com who can directly assist you in coordinating access. He is the on-site contact for Intermountain while work is occuring.
Streets receiving microsurfacing will have "No Parking" signs placed along the street at least 48 hours prior to the work being started. These signs will have specific dates and times that all parking on the street will be restricted. Reader Boards have also been deployed. Please look for these on your roadway. Vehicles parked within the posted area will have to be moved by midnight the evening before, or will be towed by Heston Hauling. Please turn off any watering of lawns during these hours, as water run-off will disrupt the curing process.
Trash Collection on Friday 7/26:
Intermountain is coordinating directly with SSC and trash will be collected on Friday. SSC should be done with servicing Gate 1 by 10:30 a.m. Intermountain will not start work on Polo Park Drive until after 8:30 a.m., and Windward Drive until after 10:00 a.m.
Caution:
The oil used in these surface treatments can and will stain your carpets, floors, and other related items if traveled through before it has properly cured. If you get oil on a surface by accident, simple dish soap and water will clean the area if caught before the oil has had time to dry. Otherwise, we recommend a citrus solvent cleaner. Please note that if you move the cones to drive on a surface that has been blocked off, or turn around on the uncured surface, the traction of your car tires will pull and pick up the slurry material (see below) and it will coat the underside of your vehicle, so please leave safety cones where they are and do not disturb the product while it is curing.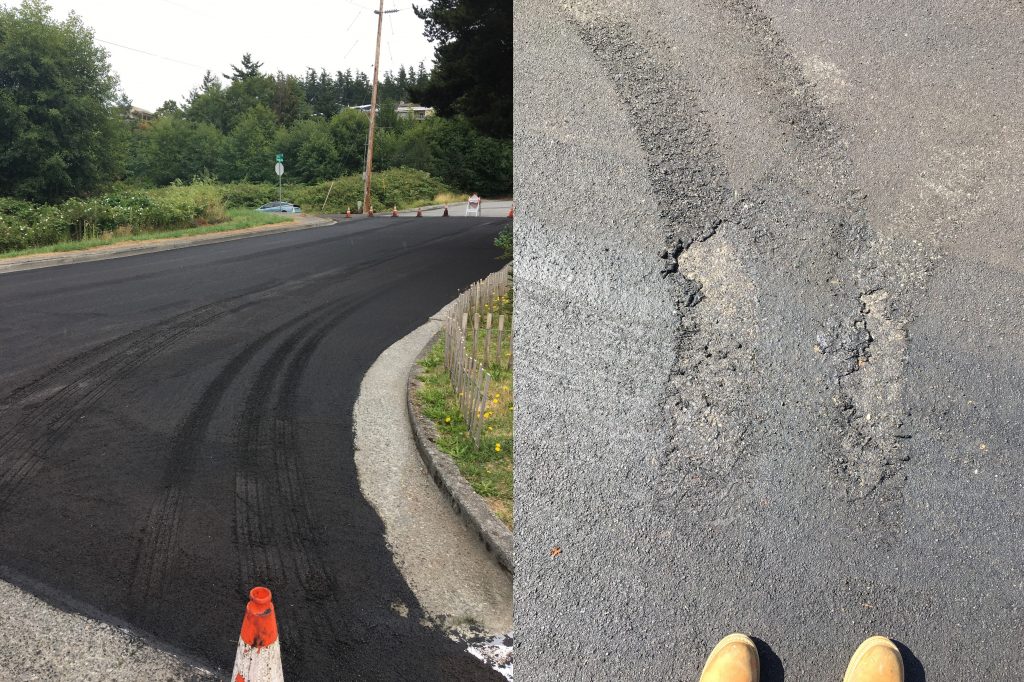 We sincerely apologize for the inconvenience this project is causing to residents, and greatly appreciate your patience and understanding while we perform these necessary improvements to our roads.
Questions/Concerns/Further Inquiries:
If residents are concerned about any aspect of this project, or would like to provide feedback, please contact:
Norm Smith, Security & Compliance Manager – (360) 746-8437 / norm@suddenvalley.com
Bruce Bishop, Maintenance Manager – (360) 724-8000 / bruce@suddenvalley.com
Joe Acla, General Manager – (360) 746-8436 / gm@suddenvalley.com